Sclerotherapy
Get rid of unsightly thread (spider) veins
Hadleigh Clinic: Harley Street Thread Vein Removal by Experienced Medical Practitioners
Is your confidence being shattered by the appearance of unsightly thread veins? If so experts in thread vein removal Harley Street based, have the solution for you. Removal of the problem veins is entirely possible and if treated by an expert is done so with results of 70-90% improvement.
Spider Veins Treatment: Harley Street (W1) Cure for Thread Veins
Thread veins are a very common condition with up to 60% of adults being affected, but thanks to new non-surgical procedure: sclerotherapy London can make them a thing of the past.
Sclerotherapy is a safe procedure and past clients reported a 70-90% improvement to the look of the vein following treatment at the Hadleigh Clinic on Harley Street W1. Thread vein removal has come a long way since the painful procedures that were previously available and one of the best places to receive treatment is at the award winning clinic on Harley Street. Sclerotherapy is a course of injections that introduces a sclerosing agent to the problem vein. The agent inflames the walls of the vein and causes it to block. The blockage stops any blood from flowing through the vein and giving it the raised or prominent look associated with thread veins. The blood is diverted to deeper veins in the leg and the thread vein eventually closes and disappears.
A vein that has been treated will not re-appear but the underlying problem that caused the first thread veins, if not identified and treated, can cause further veins to appear. Harley Street sclerotherapy experts at Hadleigh Clinic therefore recommend an annual check-up or review of problem areas and additional treatment if necessary for spider vein removal.
Thread Veins
Before and after Sclerotherapy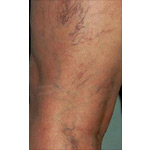 Before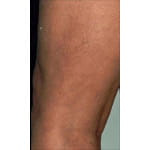 After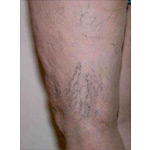 Before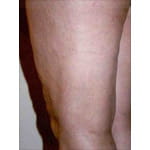 After
Thread Veins
Before and after Sclerotherapy
Could You Benefit From Sclerotherapy? Harley Street W1 Experts are Here to Help
Don't suffer in silence with thread veins. Call Hadleigh Clinic today on 08456 447711 to book your initial free, no-obligation Harley Street sclerotherapy consultation. Take action today and free yourself from unsightly thread veins.